"Caring People — Careful Solutions". At Economy Exterminators, we stand by our commitment to earn your business and trust through effective pest treatments delivered by a team of friendly, professional pest control experts.
To better serve our customers throughout Raleigh, Charlotte, Wilmington, and beyond, Economy Exterminators has recently hired an in-house entomologist — Ken Ahlstrom, Ph.D. Ken has unique experience in the field of entomology and is dedicated to helping our customers identify the unique pest problems at their home or business. Learn more about our NC entomologist below:
Economy Exterminators is Proud to Welcome Ken Ahlstrom, Ph.D.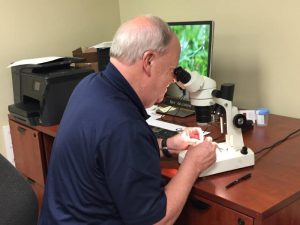 Ken Ahlstrom received his B.A. degree in 1965 from Augustana College in Rock Island, Illinois. Originally from Connecticut, he enrolled at North Carolina State University in 1970, received his Master's degree in 1972, and quickly accepted a job with NCDA&CS. In 1990, he was given the opportunity to pursue a Ph.D. degree in entomology, which he received in 2000.
During that time, he was the first Biological Control official and the chief insect identifier for 25 years. From 2003 to 2012, Ken was the State Survey Coordinator for the Cooperative Agricultural Pest Survey.
Ken is married and lives in Raleigh.
He joined the Economy Exterminators team on June 10, 2013 as an in-house entomologist.
Call Our Bug Expert & Get Rid of Pests at Your Home or Business
To speak with Ken Ahlstrom about the pest problem at your North Carolina home or business, please give Economy Exterminators a call at (877) 959-3781, or contact the office nearest you in Raleigh, Charlotte or Wilmington. We look forward to serving you!