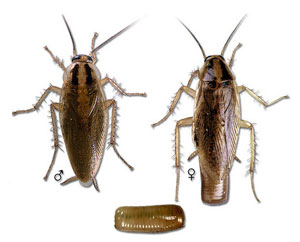 Cockroaches are among the most important pest problems for homes and commercial facilities across the Raleigh area. Roaches can be a nuisance of a pest, can damage property and can even carry many common diseases. If you're looking for Raleigh cockroach control, choose the pest control company that the Triangle trusts — call Economy Exterminators!
Expert cockroach control: American cockroaches, smoky brown roaches & more
Want to kill cockroaches? It's not as simple as you'd think. The Raleigh area is home to several species of cockroaches, and each species' habits vary greatly. Before treating a cockroach infestation, it's important to know which species you are dealing with in order to create the most effective cockroach control treatment.
Use our pest library to determine whether you've spotted smoky brown cockroaches, German cockroaches, American cockroaches or wood cockroaches in your home or commercial building. You can also call us for a free inspection to have one of our Raleigh cockroach extermination experts identify the pests.
Once we've correctly identified the type of cockroach, we can more effectively target cockroach treatments and prevent an infestation from returning. Our professional cockroach extermination services mean you can say goodbye to these pests for good!
The cockroach exterminators Raleigh turns to first
If you suspect cockroaches have invaded your home, it's time to take action. Don't let these pests carry disease and bacteria into your home and across your kitchen counters — call Economy Exterminators for professional cockroach control.
Our Raleigh cockroach exterminators get rid of roaches fast with targeted treatments and cutting-edge pest control technology. We won't rest until your cockroach problem is gone for good! Whether you live in downtown, Midtown, North Raleigh or another Raleigh area, we've got your cockroach control needs covered.