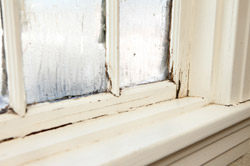 Moisture can invite pests and cause considerable damage to your Raleigh, Charlotte, or Wilmington, NC home or commercial property — but do you even know if there's a moisture problem you need to address? The problem with moisture build-up is that it happens in places we don't often think about, like crawl spaces.
Free crawl space inspections – Call us today: (877) 959-3781
If you're unsure about the status of your property, call our North Carolina moisture control experts for a free inspection. We'll evaluate your home or business free of charge and will explain the risk level of your property. We'll provide a price quote and offer the moisture control services necessary to protect your property from damage.
Our moisture control & crawl space services include:
Comprehensive moisture control services
Custom-installed moisture barriers
Dehumidifiers
Insulation removal & installation
Timber treatments for fungi
All crawl space structural repairs
Siding, brick molding, fascias, stiff knee supports
Crawl space clean-outs
Custom-designed sump pump & drain line systems
Automatic foundation vents
Crawl space doors
Our moisture control services aren't just about dealing with excess moisture — we're also here to help with moisture prevention. When we treat your home, we'll not only get rid of your current moisture problem but will take steps to prevent any future moisture damage.
Protect your home: Choose Economy Exterminators' moisture control pros!
For a free, thorough inspection and effective moisture control and prevention services, choose the team Raleigh trusts — Economy Exterminators! Our Raleigh, Charlotte, and Wilmington moisture control specialists work fast to ensure moisture damage is stopped in its tracks. For professional service and effective treatments, call us today.