"Caring People — Careful Solutions"℠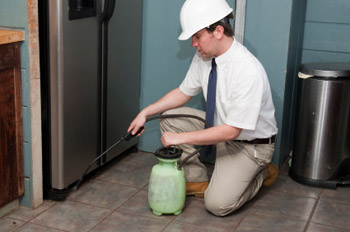 When you have a pest problem, turn to the pest control company trusted by North Carolinians for over 40 years. At Economy Exterminators, we provide pest control services with a focus on safety, effectiveness and total customer satisfaction.
With our full range of residential and commercial services, we're the only Charlotte, Wilmington or Raleigh-area pest control company you'll ever need. Ant infestation? Cockroach problem? Bothered by bed bugs? Call Economy Exterminators, and one of our caring pest technicians will be on the job. Fast response and unparalleled customer service have earned us a reputation as North Carolina's finest.
Learn more about the pest control services we offer in Raleigh, Charlotte & Wilmington, NC:
To completely exterminate pests from your residential property, rely on an ongoing pest prevention plan by Economy Exterminators. We understand that eliminating the initial infestation is not enough, and that regular pest treatments are usually required. Get rid of those pests in your home once and for all!
Did you know that termites can do extensive damage to your home's foundation if not quickly exterminated? Economy Exterminators can help. We have more than 40 years of experience getting rid of termites in homes across NC.
Have you spotted rodents in your NC home? It is time to rely on the rodent control experts at Economy Exterminators. We understand that rodents are not only annoying, but that they can also carry harmful diseases into your home, and it is important to exterminate them as quickly as possible.
Commercial Pest Control Services
At Economy Exterminators, our expertise goes far beyond just residential pest control. We also have experience exterminating pests in a variety of commercial buildings across NC.
In addition to pest control, Economy Exterminators also offers homeowners pest inspections and reports, crawl space services, and customized pest solutions to fit your unique needs.
Our Pest Elimination Plus Program Includes:
Little black ants
Acrobat ants
Pavement ants
Surinam roaches
Sawtooth grain beetles
Indian meal moths
Rice weevils
Grain weevils
Wolf spiders
Cellar spiders
Jumping spiders
Earwigs
Clover mites
Spring tails
Ticks
Sowbugs
Millipedes
Centipedes
Fleas
Ground beetles
Pill bugs
Box elder bugs
Firebrats
Thrips
Carpenter bees
Hornets
Call Economy Exterminators today to schedule a free inspection or to learn more about our pest control services. Whether you live in Raleigh, Charlotte, Wilmington or a surrounding city, we offer the same great service from local pest professionals you can count on.