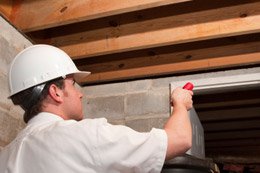 Would you like a pest-free home or commercial facility? While a one-time pest control service may help for the time being, a new infestation can take root in as little as 60 days. Simple pest extermination is often not enough.Get complete peace of mind with Economy Exterminators' Pest Elimination Plus program, an ongoing pest prevention plan for residential and commercial clients in the Charlotte area.
Pest Elimination Plus is the complete package: pest management, extermination and prevention. Call our experienced Charlotte pest control team today to schedule a free inspection of your property, or fill out the form on this page!
Economy Exterminators' Pest Elimination Plus package incorporates the best in pest extermination, management and prevention. Call our Charlotte pest control experts today and schedule a free inspection to get started!
Our Charlotte, NC Pest Elimination Plus clients benefit from:
Guaranteed protection from 44 covered pests
A 37-point inspection customized for your property
A continuing pest control plan designed for your unique needs
Treatment of your home's exterior to catch pests before they infest your Charlotte, NC home
Traps & monitors to detect pests before they become a problem
Wasp nest & spider web removal
One-call resolution for unlimited additional pest control services if needed
The convenience of E/Z Pay (automatic draft or credit card)
A free Wood Destroying Insect Survey (WDIS) at your request
An industry-leading money-back guarantee
Pests covered by the Pest Elimination Plus program
Our Charlotte exterminators can tackle a whole host of common household pests with our ongoing pest elimination program. These pests include :
Little black ants
Acrobat ants
Pavement ants
Surinam roaches
Sawtooth grain beetles
Indian meal moths
Rice weevils
Grain weevils
Wolf spiders
Cellar spiders
Jumping spiders
Earwigs
Clover mites
Spring tails
Ticks
Sowbugs
Millipedes
Centipedes
Fleas
Ground beetles
Pill bugs
Box elder bugs
Firebrats
Thrips
Carpenter bees
Hornets
Not sure what pest has invaded your home or business? Reference our pest identification library to compare insects. Our Charlotte pest control experts have compiled a directory of their knowledge so you can get an idea of what kind of pest you are dealing with.
Charlotte integrated pest management: Focusing on safety & effectiveness
Economy Exterminators' Pest Elimination Plus program uses integrated pest management (IPM), focusing on safety and effectiveness:
Integrated pest management is a process in which pest risk is minimized while simultaneously minimizing the risks associated with pest treatments (such as pesticide exposure). We apply treatments strategically, ensuring that children, adults and pets are protected from the potential dangers of pests and the products used to eliminate and prevent them.
Biology & behavior – Knowing the specific pest's life processes and habits enables our pest control pros to pinpoint only the areas that need attention. This precision targeting method allows us to use the least amount of treatment product with the greatest effectiveness.
Crack & crevice treatments include intentionally applying materials in areas that pests love but that are difficult for children, adults and pets to contact.
Charlotte pest control service – We recognize that the types of pests you face are different. Pest control in Charlotte is different from pest control in Wilmington or pest control in Raleigh. Our plans are custom tailored to your location and your home's pest control needs.
Call today for effective pest prevention!
When it's time for professional pest management, contact Economy Exterminators for a free pest inspection and let our experienced Charlotte pest control team put our skills to work for you! If you're not in Charlotte, you can check out our Raleigh exterminators and Wilmington exterminators.
Now it's easier than ever to manage your account with Economy Exterminators! Just register your username and password and get automatic access to your online account to pay your bills online, see your pest control treatment history, and more!
LYNNE E.

Raleigh, NC
"Economy started their business in 1977 less than a year after we moved to Raleigh from Chicago. We are customer #325 meaning we have been with Economy for a long time. I would suggest there is a reason for this long term relationship & that is quality service at a fair price. They live up to it and have for the last four decades. When I have requested help, they have been on top of my problem. I would strongly suggest if you're looking for an extermination service give Economy a good hard look. I did 40 years ago & I'm still with them & really happy."
GERALDINE T.

Charlotte, NC
"I have used this service for years and have always had courteous and quick service, from our agent Louann setting appointments to the guys who actual come out and spray everyone has been wonderful. We actually had service at both of our homes at one point. Thank you for the great customer service!!!"
LISA F.

Wilmington, NC
"I have been with Economy for many years and Pat has been my service tech. He is amazing at his job. He is so thorough. He has saved me from having to get new floors due to a leak under the the house. I only want him to come to my house because he is so wonderful! You should be very grateful to have him as your employee! I hope he gets a raise! "
Quick Service Request
Contact us today to schedule North Carolina's most trusted pest control experts!