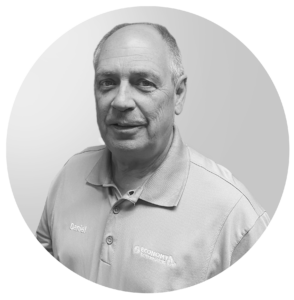 DANIEL HARRIS
Key Accounts Manager
Daniel Harris has been with Economy Exterminators since 1982, when it was only two brothers Joe and John Canning, their dad, office assistant Linda and one hired technician. He currently serves as Economy's Key Accounts Manager, after holding many other key operational roles. Additionally, Daniel holds a Structural Pest Control License, Pesticide Applicators License, and is a Certified Applicator in P & W. He attended UNC Wilmington where he earned a Bachelor of Science in Biology.
Over the years Daniel has been responsible for developing many key pest and service programs at Economy Exterminators… most notably the Mosquito, Bed Bug Heat Treatment, Crawlspace Encapsulation, and Fly Control programs. He has also aided the Dow Company and North Carolina State University in the early stages of the Sentricon Termite Colony elimination system.
Daniel currently resides in Zebulon NC where he's been for the last 32 years. He also holds a Coast Guard OUPV Captains credentials, and enjoys his free time at the coast fishing and boating.
Contact Daniel: daniel.harris@callecon.com