Schedule your free termite inspection!
Termites can cause structural damage if not properly treated. Termite control in Raleigh, Charlotte, and Wilmington is a must when you want to protect your biggest investment, your property.
Medical Professionals & First Responder Special
Are you a medical professional or first responder? From now until October 31, you'll get $100 OFF your Initial Service when you sign up for our recurring Pest Control Solutions!
Expires APRIL 30, 2021
Best Termite Control in Raleigh, Charlotte, & Wilmington
Why choose Economy Exterminators for termite control and ongoing protection? Because Economy Exterminators gets the job done! We use the latest, most effective termite defense products to get rid of termites and provide you with peace of mind.
Prevent termite damage to your property — call our termite control experts in the Raleigh, Charlotte or Wilmington area today to schedule a free inspection of your home or business.
Do you have Termite damage?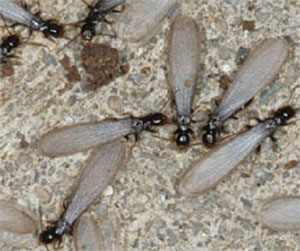 Termites cause over 5 billion dollars worth of damage a year. Another 2.2 billion each year is spent on the control of termites. These persistent pests will invade any structure — from the Statue of Liberty to the White House to your house. No structure is immune, especially in North Carolina where our environment is especially attractive to termites.
A quality termite control program is your best guarantee against infestation. At Economy Exterminators, our termite protection plan is backed by a solid reputation and 40 years of experience providing Wilmington, Charlotte, and Raleigh termite extermination services.
Our termite pest control program includes:
An immediate, free termite inspection
A qualified North Carolina Pest Management Association (NCMPA) accredited WDIR inspector who has completed on-the-job training & has met all state requirements to be awarded this certificate
A thorough physical inspection of all accessible crawl space, slabs & perimeter areas by visual & sound detection
A graph of the entire building with notations of all critical items (crawl space moisture percentage, etc.)
A North Carolina Official Waiver of Minimum Requirements for the Control of Subterranean Termites in Existing Structures (form #5)
Competitive pricing & a written quote with E/Z Pay & special payment options
A customized termite control plan incorporating the most effective treatments & technologies
A reputation that no one surpasses!
The latest termite treatments & technology
Economy Exterminators has always been on the cutting edge of new materials and technology. Our company was chosen in 1993 to be one of the select few pest control companies in the US to test the Sentricon Colony Elimination System before it was introduced to the termite control market.
Again in 1999, because of our reputation as an industry leader, Economy Exterminators was chosen to test a new material called Termidor, which was made at that time by a French company, Rhone Poulenc. In 2000, Termidor was introduced into the broader termite control market and has since become the market standard for termite extermination.
Economy Exterminators is happy to have been a part of these new and lasting innovations. We're always looking for new and improved termite control methods — our termite exterminators stay up-to-date on the latest technology so as to provide the best termite protection possible. This is one of the many reasons that Economy Exterminators has an unsurpassed reputation in the pest control and termite prevention industry.
Termite identification & information
For your convenience, Economy Exterminators has provided extra information about termites, such as the signs of infestation, potential problems, and do-it-yourself solutions to reduce the conditions that harbor and attract termites.
When you're ready for a professional termite control solution, contact us to schedule a free termite inspection and let the experienced team at Economy Exterminators put our proven pest control skills to work for you. With offices in the Raleigh, Wilmington, and Charlotte areas, our termite experts serve homes and businesses just like yours!