Best Termite Control in Raleigh, Charlotte, & Wilmington
Termites can cause structural damage if not properly treated. Termite control is a must when you want to protect your biggest investment  your property.
DO YOU HAVE TERMITE DAMAGE?
Termites cause over 5 billion dollars worth of damage a year. Another 2.2 billion each year is spent on the control of termites. These persistent pests will invade any structure — from the Statue of Liberty to the White House to your house. No structure is immune, especially in North Carolina where our environment is especially attractive to termites.
A quality termite control program is your best guarantee against infestation. At Economy Exterminators, our termite protection plan is backed by a solid reputation and 40 years of experience providing Wilmington, Charlotte, and Raleigh termite extermination services.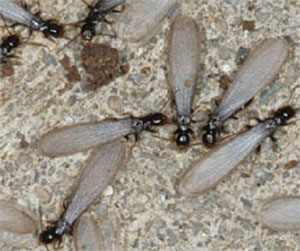 OUR TERMITE PEST CONTROL PROGRAM INCLUDES:
An immediate, free termite inspection
A qualified North Carolina Pest Management Association (NCMPA) accredited WDIR inspector who has completed on-the-job training & has met all state requirements to be awarded this certificate
A thorough physical inspection of all accessible crawl space, slabs & perimeter areas by visual & sound detection
A graph of the entire building with notations of all critical items (crawl space moisture percentage, etc.)
A North Carolina Official Waiver of Minimum Requirements for the Control of Subterranean Termites in Existing Structures (form #5)
Competitive pricing & a written quote with E/Z Pay & special payment options
A customized termite control plan incorporating the most effective treatments & technologies
A reputation that no one surpasses!
SCHEDULE YOUR FREE TERMITE PEST INSPECTION
Are you worried about termites, but also concerned about the environmental impacts of termite treatments?
We've got your solution: Sentricon + Economy Exterminators… "Consider It Done"℠
Sentricon is both an excellent way to protect your property from termites and an "environmentally safe" way to achieve long-lasting results. With Sentricon's termite baiting system, there's no possibility of runoff from an installation. Read more about Sentricon here or give us a call to learn about termite treatment options!
THE LATEST TERMITE TREATMENTS & TECHNOLOGY
Economy Exterminators has always been on the cutting edge of new materials and technology. Our company was chosen in 1993 to be one of the select few pest control companies in the US to test the Sentricon Colony Elimination System before it was introduced to the termite control market.
Again in 1999, because of our reputation as an industry leader, Economy Exterminators was chosen to test a new material called Termidor, which was made at that time by a French company, Rhone Poulenc. In 2000, Termidor was introduced into the broader termite control market and has since become the market standard for termite extermination.
Economy Exterminators is happy to have been a part of these new and lasting innovations. We're always looking for new and improved termite control methods — our termite exterminators stay up-to-date on the latest technology so as to provide the best termite protection possible. This is one of the many reasons that Economy Exterminators has an unsurpassed reputation in the pest control and termite prevention industry.
TERMITE IDENTIFICATION & INFORMATION
For your convenience, Economy Exterminators has provided extra information about termites, such as the signs of infestation, potential problems, and do-it-yourself solutions to reduce the conditions that harbor and attract termites.
When you're ready for a professional termite control solution, contact us to schedule a free termite inspection and let the experienced team at Economy Exterminators put our proven pest control skills to work for you. With offices in the Raleigh, Wilmington, and Charlotte areas, our termite experts serve homes and businesses just like yours!
I am so impressed with this company and its employees! This morning and in the night for the first time in months I did not share my kitchen with uninvited and despised intruders. Yay!!! My communication with EVERY employee in this family-owned business has been friendly, informative, and honest. The cost is super affordable and the willingness to bring a valid and much-needed service is so appreciated! I highly recommend Economy Exterminators!
—S.K.

Wilmington, NC
Economy Exterminators is amazing! Called around for pricing on contracts and such. Economy Exterminators was reasonably priced, quick to respond and definitely attentive to customers. Every time I've had an issue (seen spider or bugs inside or an ant hill forming outside) they reasonably fast to show up and take care of the issue. Everyone that has showed up to do work was super nice, professional, and willing to explain the process very well. A+ company!
—J.B.

Charlotte, NC
Economy Exterminators is by far the best pest control company I've ever worked with. I initially called due to a Yellow Jacket problem, which they immediately resolved. Since that time I have used Economy for all pest control as well crawl space work/maintenance. After having previously received more than 5 quotes from previous organizations for crawl space work, I found Economy to be the most professional, honest and reasonably priced for outstanding quality. I highly recommend them to anyone seeking a local organization you can trust.
—Z.B.

Raleigh, NC
CONTACT ECONOMY EXTERMINATORS TODAY!
Expert pest elimination services are necessary when faced with a pest problem.
Contact the pest control experts of North Carolina, Economy Exterminators.
Environmentally conscious 
Award-winning
pest control