Mosquito Control
Economy Exterminators' over 40 years of experience makes us the go-to experts for your mosquito control needs. Take action before you, your loved ones, or guests get bitten by pesky mosquitoes. We serve customers in the Raleigh, Wilmington, and Charlotte areas. Enjoy the freedom of the outdoors without worrying about a mosquito nuisance, call us today to schedule your free inspection!
$25 OFF Mosquito Treatment
Get $25 off initial mosquito control treatment for your property.
Expires 6/30/2019
Mosquito Habitat Checklist
Inspect your home and yard for accumulated water

Buckets, garbage cans, recycling bins, tarps all collect water and make great breeding sites for mosquitoes. Make sure you check under your decks for items that may collect water.

Inspect your home for trash or rubbish

Small cans, lids, cups and even bottle caps collect water and make a warm water breeding site.

Inspect trees, tree stumps and shrubs around your property

Tree hollows and cavities allow water to collect, seal them if possible. Cut back trees to keep gutters draining freely as standing water in gutters make an excellent breeding area. Excess heavy shrubs in yards will reduce sunlight and make this area a mosquito haven.

Fish ponds, swimming and kiddie pools

If you have a fish pond always make sure you have live, healthy fish – they eat the mosquito larva. Try to keep pond weeds down, this makes it easy for the fish to feed on the larva. Pools must be kept chlorinated and filtered. Kiddie pools should be drained when not in use, remember water will collect in them even if they are upside down!

Inspect children's toys, tire swings

Plastic toys, deflated toys, wagons, plastic basketball hoops will all collect water and usually very small amounts, which allows it to warm quickly, making a perfect mosquito breeding environment. It is almost impossible to drain water from a tire swing, just drill several holes in the bottom to allow water to escape. Remove any and all unused tires from your property!

Flower pots, vases, wheel barrows, bird baths, pets' dishes

All of these items collect water, during the warmer months they must be drained at least once a week to prevent larva from breeding.

Boats and water craft

Boats stored in your yard and property make excellent breeding sites. Covered or not, they collect water and many times go unnoticed for long periods of time. If covered with a boat cover or tarp, make sure water is not collecting in depressions. If uncovered, there are many areas that catch rain water, even if the drain plugs are removed. Check these often in the warmer months and taken action to eliminate standing water to ensure mosquito control is checked off your list.

Brick walls

Often, brick or block walls will have missing bricks, which allow water to collect down in the wall, making the problem area impossible to see; therefore, action is not taken to eliminate the mosquito breeding site. Make sure all brick and block walls are capped properly.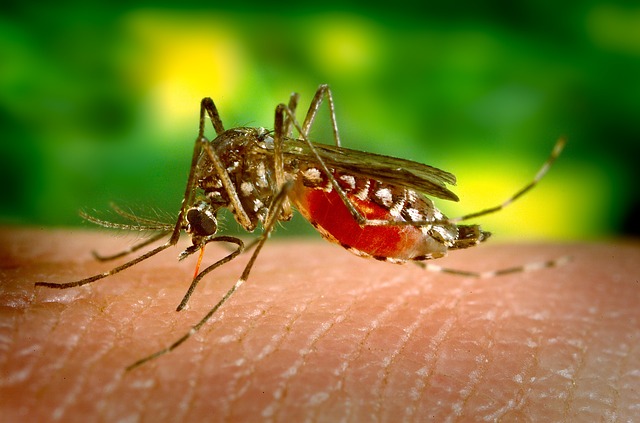 Mosquito Control Program
If you are still experiencing issues with mosquito control after completing this checklist, call Economy Exterminators to begin enjoying the outdoors in summer again!
We use the best materials available;
Applications are made every 60 days to reduce the environmental impact of our mosquito control treatments;
Re-application between regularly scheduled services would be no extra charge;
Our technicians are specially trained so that the mosquito control applications are both effective and safe.
Schedule your Free Inspection!
Expert pest elimination services are necessary when faced with a pest problem.
Contact the pest control experts of North Carolina, Economy Exterminators.
LYNNE E.

Raleigh, NC
"Economy started their business in 1977 less than a year after we moved to Raleigh from Chicago. We are customer #325 meaning we have been with Economy for a long time. I would suggest there is a reason for this long term relationship & that is quality service at a fair price. They live up to it and have for the last four decades. When I have requested help, they have been on top of my problem. I would strongly suggest if you're looking for an extermination service give Economy a good hard look. I did 40 years ago & I'm still with them & really happy."
GERALDINE T.

Charlotte, NC
"I have used this service for years and have always had courteous and quick service, from our agent Louann setting appointments to the guys who actual come out and spray everyone has been wonderful. We actually had service at both of our homes at one point. Thank you for the great customer service!!!"
LISA F.

Wilmington, NC
"I have been with Economy for many years and Pat has been my service tech. He is amazing at his job. He is so thorough. He has saved me from having to get new floors due to a leak under the the house. I only want him to come to my house because he is so wonderful! You should be very grateful to have him as your employee! I hope he gets a raise! "
Learn about our Wilmington Google Reviews!
Read our Raleigh Google Reviews!
Check out our Charlotte Google Reviews!
Quick Service Request
Contact us today to schedule North Carolina's most trusted pest control experts!