When you refer a friend, you'll get $50…just because you sent them our way.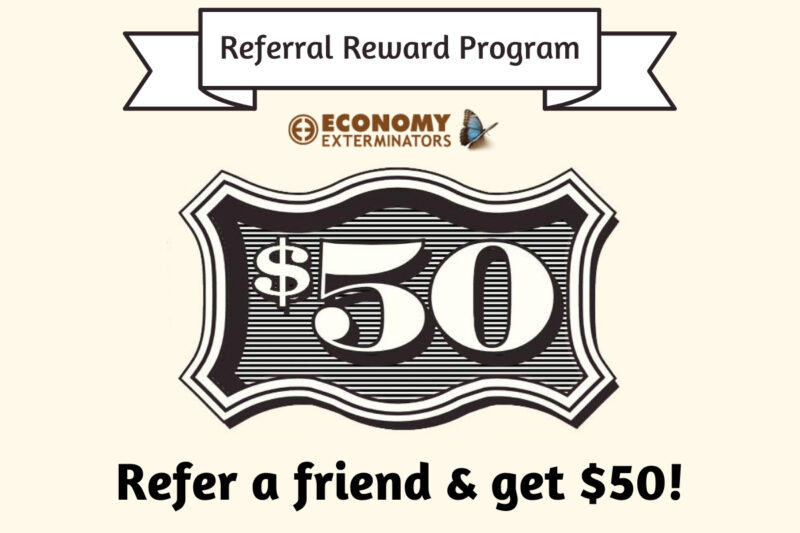 Thank you for being a loyal customer! To thank you for referring a friend, we will send you a check for $50 just because you sent them our way.
How to Use: Fill out YOUR information and your friend's information in the contact form below and click submit. We will reach out to your friend to schedule their FREE estimate. After your referral signs up for service* with us, we will mail a check for $50 to you. Its Economy's way of saying Thank You! *Excludes one-time service

*******************
NEW REFERRAL CONTEST: Starting in January 2022, when you refer a friend, you will also be entered into our referral contest with a winner each calendar quarter. The Top Referrer will win a $500 gift card!*
How to enter: Refer your friends, neighbors, coworkers, and family members with our referral postcards OR via the form on this page.
General Information: Void where prohibited. All federal, state, and local laws and regulations apply. All federal, state and/or local taxes are the sole responsibility of the winner. Economy Exterminators may terminate the contest at any time. *Top Referrer is the person whose referrals in a particular quarter resulted in the highest volume of sales in that quarter for services in the same quarter. Excludes: Employee participation and referred customers who are one-time pest control service customers. Winners will be contacted by Economy Exterminators at the end of each quarter via phone.