Schedule your FREE commercial pest inspection
Does your organization have an industrial or commercial pest control issue?
Let us help!  "Consider It Done"℠ when you choose Economy Exterminators.
Commercial Pest Control Services in Raleigh, Durham, Chapel Hill, Charlotte, & Wilmington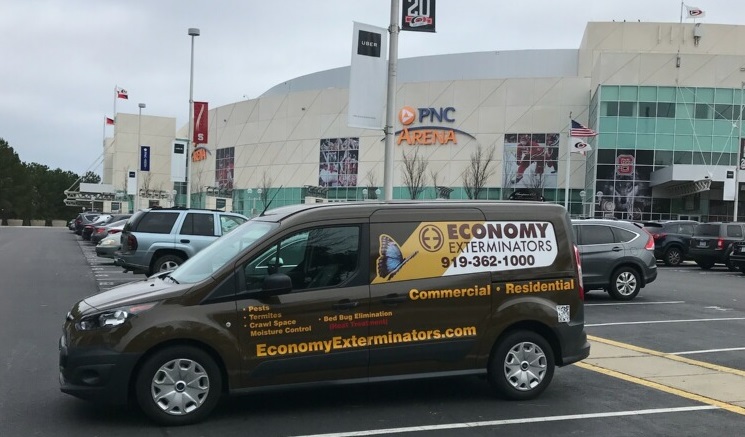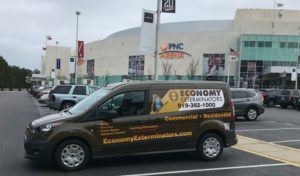 For over 40 years, our company has been North Carolina's leader in commercial pest management solutions, serving commercial clients in Raleigh, Durham, Chapel Hill, Wilmington, Charlotte and the surrounding areas. Our notable clients include the PNC Arena, where we are a Proud Partner of the Carolina Hurricanes, and the USS North Carolina! Call our commercial pest elimination experts today to schedule your free pest inspection.
"PNC Arena has been utilizing the pest control services of Economy Exterminators for over 15 years with excellent results.  Without hesitation, I recommend Economy Exterminators for all of your pest control needs."

~ Craig Stover, Director of Operations, PNC Arena
Proven Commercial Pest ELIMINATION Solutions
Our commercial pest control specialists have worked with all types of commercial clients, delivering the proven results they require. From small businesses to pharmaceuticals, you can trust Economy Exterminators for a job well done! With three locations serving the Raleigh, Durham, Chapel Hill, Charlotte and Wilmington areas, clients across North Carolina choose us for their commercial pest control needs.

Customized integrated pest management programs
From the small business to the commercial enterprise, Economy Exterminators develops customized pest control service plans to meet the specific needs and special demands of our commercial clients. Whether you're dealing with a minor ant problem, a bed bugs crisis or would just like to prevent and eliminate future pest infestations, you can trust us for punctual, professional and effective pest treatments.
Integrated pest management (IPM) techniques (including comprehensive communication, electronic documentation and use of the newest materials, techniques and technology) will be used to evaluate and implement a comprehensive pest management solution specifically for your situation. Our proven pest control techniques can solve even the most difficult pest problems safely and effectively.
"1 call resolution" for Raleigh, DURHAM, CHAPEL HILL, Charlotte & Wilmington
Economy Exterminators' commitment to "1 Call Resolution" can provide you the pest-free results you demand. Contact one of our pest control offices to schedule a free inspection or set up a meeting to discuss your needs.
Raleigh, Durham, & Chapel Hill
Experiencing a pest infestation in your Raleigh, Durham, or Chapel Hill business? Rely on the company that has been providing proven commercial pest solutions to properties in the Triangle area for more than 40 years: Economy Exterminators.
Are you the owner of a commercial building in the Charlotte area that is in need of pest control services? Economy Exterminators is your answer. We have extensive experience delivering expert commercial pest control services to hospitals, hotels, offices and more in Charlotte.
Wilmington
At Economy Exterminators, we have more than 40 years of experience providing pest control services to a variety of commercial buildings in Wilmington, NC including hospitals, churches, sports arenas, retirement homes and more!
We provide pest solutions to the following types of commercial facilities:
Public schools
Private schools
Day-cares
Pharmaceutical facilities
Research facilities
Sports arenas
Municipalities
Retirement facilities
Business campuses
Multi-family residences
Colleges & universities
Manufacturing facilities
Country clubs
Utilities
And many, many more…
Chris S.

Raleigh, NC
"Kudos to Shaun R. at Economy for his work on my home's crawlspace. He removed the old insulation, thoroughly cleaned the joists and floor bottom, and put in new insulation. Also got a dehumidifier installed and it's running as expected. He went the extra mile and cleaned away "stuff" that some mice had left in the crawlspace."
Juanita F.

Charlotte, NC
"Economy Exterminators is a great company. I have communicated with four different people and each one was friendly, professional & knowledgeable. From office staff, inspector to techs, they are great. Its been a little over a week since their initial service of my home & I have already seen a major difference!"
Susan A.

Wilmington, NC
"Economy Exterminators were able to come inspect the house within 24 hours of my contacting them. They then scheduled the first treatment within a week! The technicians they sent out were very thorough in their explanation of the process and what to expect. Also very kind and genuine people and would recommend!"
Learn about our Wilmington Google Reviews!
Read our Raleigh Google Reviews!
Check out our Charlotte Google Reviews!
Schedule your Free Inspection!
Expert pest elimination services are necessary when faced with a pest problem.
Contact the pest control experts of North Carolina, Economy Exterminators.
Learn About Pests
"The Pest Knowledge Center"
German cockroaches are very common in North Carolina, but there are also Smoky brown and American cockroaches. Learn more in our knowledge center!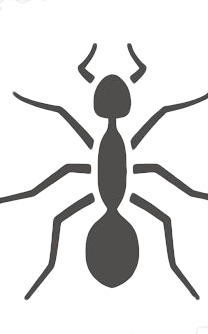 Do you need specifics on how to properly identify fire ants, their eating habits, and biology? Learn more here!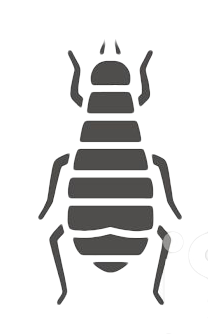 Pets feeling itchy? You may have a flea problem! Learn more about the biology and habits of fleas here.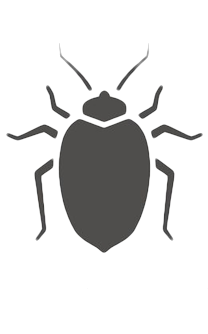 Bed bugs preferred hosts are humans... so if you have them, know how to identify them and call us today for effective bed bug heat treatment!
Do you have mice, rats, or other rodents? Knowing what they eat, their preferred habitat, and other facts can help you identify them. Educate yourself in our knowledge center!
Quick Service Request
Contact us today to schedule North Carolina's most trusted pest control experts!