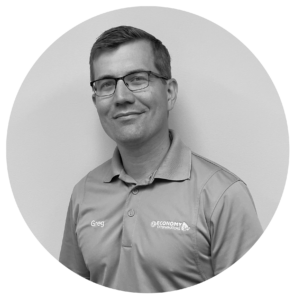 GREG CANNING
President
Greg Canning serves as President of Economy Exterminators, a role which he assumed after Joe Canning's retirement in October 2022.  He joined the company full-time as the Director of Human Resources in 2015 and directed operations for the company from 2018-2021.  Before joining the family business, he taught philosophy to undergraduate students in Washington, DC, Maryland, and Massachusetts. Greg earned his Ph.D. in Philosophy from the Catholic University of America in 2011.  During the summers between his semesters at UNC Charlotte, Greg worked as a summer service technician for Economy.
Greg has his Senior Professional in Human Resources Certification from the Human Resources Certification Institute, along with a North Carolina Structural Pest Control license. Greg is active in the pest control industry; serving on the National Pest Management Association's Recruitment & Retention Committee, and serving on the Board of Directors for QualityPro.  He also works with the North Carolina Pest Management Association on a regular basis.
Greg lives in Apex, NC with his wife and their 4 children.  In his free time, you can find Greg enjoying running, tennis, and killing it on the softball field.
Contact Greg: greg.canning@callecon.com