(Also known as stone crickets and cave crickets)
Camel crickets can become a severe pest problem when they invade your home. They can be frightening, jumping all over the place when you least expect them.
How to Identify Camel Crickets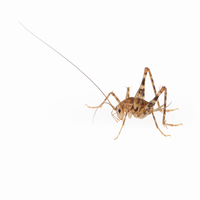 Adult camel crickets are 1/2 to 1-1/2 inches long; entire body and antennae can be 4 inches. They are brownish to grayish in color and have a humpback appearance. They have two long, back legs and 2 very long antennae. Their legs resemble grasshopper's legs in that they use them to propel themselves. Camel crickets are wingless. The young can look almost translucent. They do not possess sound-making organs.
The Biology of Camel Crickets
This species has not been studied as closely as other insect pests. It is known that they overwinter as nymphs as well as adults. The females lay their eggs in the spring; the eggs start to hatch during April and May. Camel crickets have very poor eyesight since they are in a very dark environment most of their life. They need a high moisture environment.
Where do Customers See Camel Crickets?
Camel crickets prefer dark, warm, moist areas such as crawlspaces, unused garages, storerooms, sheds, basements, etc.
When these populations increase to high populations, usually in the crawlspaces, they invade homes on the lower floors. They usually are not a problem until they get inside the home.
They are nocturnal or active at night. They can be scary because they jump about when you least expect it.
For some reason, they tend to jump toward an envisioned threat. They have been known to jump down the shirts of individuals. Very disturbing!
Feeding Preferences of Camel Crickets
Camel crickets feed on organic material.
Do-it-yourself ways to reduce the conditions that harbor and attract the camel cricket:
Remove leaf clutter near structure
Re-direct sprinklers away from the structure
Reduce mulch to 2 inches or less
Seal gaps around doors and windows
Repair foundation cracks
Seal around HVAC system
Reduce moisture content in crawlspaces
Repair all leaks in structure
Seek professional assistance and a pest prevention plan
Economy Exterminators' Pest Control Solutions program uses the 4-step approach to solve your camel cricket problem:
Our 1st step is the inspection of the property by a Charlotte, Raleigh Durham, Chapel Hill,or Wilmington customer service specialist. It is very important to know the species involved and the severity of the pest problem. This is especially true with this pest since some pest control treatments work much better than others to eliminate camel cricket infestations.
The 2nd step is the initial treatment by a customer service specialist of all areas that the inspection revealed as critical. Economy Exterminators uses the newest and most effective materials to solve this pest problem quickly for you. Typical critical areas include basements, lower levels, crawlspaces and outside areas. On the outside, special attention will be applied to all the windows, doors, eaves and foundations.
The 3rd step is a 37-point inspection of your property to identify areas that allow camel cricket entry by either direct access (cracks in the foundation) or food sources that would be attractive to the camel cricket.
The 4th step is an ongoing maintenance program for the next generation of pests. New infestations will be moving onto your property from the outside natural environment. Our exclusive Pest Control Solutions program is designed to prevent the next generation of camel crickets from infesting your home. As always our unlimited extra service is at no charge.