Spring is officially here, and we think it's the perfect time to arm homeowners with the knowledge that can help them prevent costly termite damage.
If you suspect termites or if you'd like to get a leg up on your termite protection plan BEFORE they strike, schedule a FREE pest inspection with one of our highly trained pest professionals. We will provide you with a detailed report about the pest activity around your property and will then create a custom plan of attack and discuss all of your options. 
Economy Exterminators have always been on the cutting edge of new materials and technology in terms of treatments. Our company was chosen in 1993 to be one of the select few pest control companies in the U.S. to test the Sentricon Colony Elimination System before it was introduced to the termite control market. Again in 1999, because of our reputation as an industry leader, Economy Exterminators was chosen to test a new material called Termidor. In 2000, Termidor was introduced into the broader termite control market and had since become the market standard for termite extermination.
Economy Exterminators is happy to have been a part of these new and lasting innovations. We're always looking for new and improved termite control methods — our termite exterminators stay up-to-date on the latest technology to provide the best termite protection plans possible. This is one of the many reasons that Economy Exterminators has an unsurpassed reputation in the pest control and termite prevention industry.
Did you know?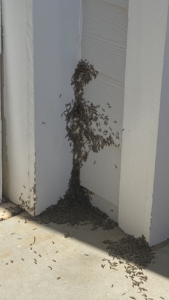 A single termite may not look like much, but it can signify something bigger behind your walls, and
termites can be found throughout the Carolinas in every structure, no matter how big or small. Although there are only a few species of termites to be concerned about here in the U.S., each poses a significant threat to the structure of your home, as an infestation can cost property owners thousands of dollars in damages.

Termite damage is not covered by homeowners insurance! Why? This is. Because most insurance companies view termite damage as preventable, before you buy your dream home, give us a call to ensure that you are covered with a termite protection plan! We will perform a termite inspection and suggest treatment options or ways to keep an eye on possible termite activity.

The subterranean termite can be found in every state in the U.S. except Alaska.

Termites are also known as "silent destroyers" because you may not know you have them until too late! Termites have been around for millions of years and can cause significant property damage.
Termite swarmers look like winged ants. Think you have *just* an ant problem? Not always – take a look at these termite swarmers! One of our termite pros came across this group of young termites looking to start their own colony. Luckily the homeowners gave us a call, and we were able to assess the situation and treat it so that this didn't turn into a more significant issue!
Give us a call today to schedule your FREE inspection and get started on a termite protection plan. We will make sure that your home is happy and pest-free.