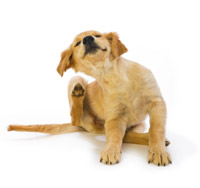 If you've had fleas in your home before, you know what a persistent problem these insects can be. Getting rid of fleas requires the help of a trained professional, like the flea control specialists at Economy Exterminators. Call us today for a free inspection and guaranteed results: (877) 959-3781
Flea prevention: Get rid of fleas for good!
At Economy Exterminators, we're not just interested in one-time flea extermination — our Raleigh flea control experts will offer tips for flea prevention to help you avoid problems with this pest in the future. We'll help you get rid of flea infestations for good!
During a thorough inspection, we'll assess the extent of the flea problem and create a targeted treatment strategy to effectively eliminate these pests. Our Raleigh flea exterminators use only the most effective and leading-edge flea control products to make sure your pets, furniture and home stay flea-free.
Because of the flea's life cycle, sometimes it is necessary to do multiple treatments for effective home flea control. If this is the case for your flea infestation, we'll discuss this option with you before beginning treatment. At Economy Exterminators, our goal is total satisfaction for you — which means complete flea extermination for your property.
The reliable Charlotte, Wilmington, & Raleigh flea exterminators
Are your pets scratching more than usual? Have you found a flea jumping on your carpet or upholstery? It's time to call Raleigh's flea control experts: Economy Exterminators. Fleas breed fast, so it's important to seek professional flea treatments before the problem gets out of hand.
Call our office today to schedule a free inspection of your home or business. We'll determine the extent of the flea problem, provide a price estimate and recommend the best steps to eliminate fleas from your property.